Since 1917: The History of the Sutherland Lumber Company
As one of America's first building supply stores, The Sutherland Lumber Company® pioneered the "cash-and-carry" building material business and helped shape the industry we all know today.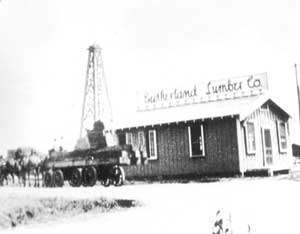 Our proud history as told by Herman Sutherland, son of Mr. Robert Sutherland, Founder:
In 1917 my grandfather, also named Robert Sutherland, died and left a small sum of life insurance to my father. My mother had some money given to her by her father, matching my father's inheritance. With that they formed a fifty-fifty partnership and built a lumberyard in Durant, Oklahoma. They sold materials for house patterns, or blueprints as we call them today.
World War I had just begun to involve the United States. Commodities were in great demand to support the war effort. The developing farming communities in Southeast Oklahoma were prospering because the prices of cotton and food crops were stimulated by the war. New land after the Oklahoma land rush was being claimed for farms. Oklahoma had been backward in a depressed situation, but was catching up with the rest of the country. It had only been a state for eleven years, but was coming forward fast, and they were ready to take on the business that followed.
Their partnership prospered and more yards were soon added: Hugo, Idabel, Ada, Norman, and Shawnee, Oklahoma.
Around 1921 a big oil field was discovered very near to the town of Ada. This was the first big find in this area because most oil had been previously produced in Pennsylvania. The people in the Company and my parents knew nothing about oil fields, oil rigs, or oil boomtowns. It was all very new, but they quickly became aware of the tremendous increase in Ada's business and the profits from the yard in Ada, Oklahoma.
Soon they learned about rig timbers, cement by the trainload, corrugated iron by the carload, and many items they had never dreamed of in the house pattern yards they had formerly operated. The Oklahoma oil boom was on. As they learned, it wasn't long before they realized that all those new oil fields offered wonderful opportunities to anyone who had already learned about an oil field specialized lumber yard.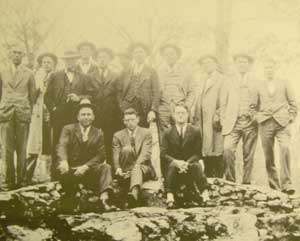 And so for the next nine years their business concentrated on operating lumber yards near newly discovered and developing oil fields. They built their new lumberyards where the oil industry was just starting, and at the same time closing old yards where the oil field had petered out.
The number of companies drilling the wells and developing the fields was limited. There were probably ten to fifteen principal oil producers, and they were all potential customers for us. Their offices were in Tulsa and later in Oklahoma City, Ponca City, Dallas, and later Houston.
My father spent his time cultivating these few customers, and because of that, knew them well. He built new yards wherever they were opening new fields. Oil was soon discovered in Texas, Kansas and New Mexico. Once these fields developed, everyone moved to the new discovery: Barbers, police forces, paving contractors, roustabouts, drillers, lease brokers, tool dressers, restaurants, flop houses, and prostitutes, as well as lumber yards, all moved in a body to the new "find".
The people in the little sleepy towns where oil was suddenly discovered didn't know what had hit them. By the time they woke up, the field had been developed and the wild people had gone on to the next field. It was a crazy time, a fascinating time, and never to be duplicated.
Two things brought it to a halt. First, laws were passed which limited the amount of oil that could be taken from each well per month. Second, the great depression lowered oil prices to ten cents per barrel. This took the wild frenzy out of the "snatch, grab and get out" oil business that had been the tune for years.
When the limits of the oil field were reached, comparative quiet and inactivity remained as each field had reached its potential. When the oil structure was all drilled out, there was no more business for the oil field yard. I remember my father saying once "We built 23 new yards this year and closed and moved out 15."
Also, for the oil fields lumber dealers, their time came to an end when the oil rigs went to steel. Steel rigs could be used over and over again, which made them much cheaper than wooden rigs. So, in 1930 my mother and father were faced with finding a new kind of business. And it was not easy, because the Great Depression had started. They looked long and hard. Eventually, my father decided that the most stable part of the country would be where food was produced most efficiently. People had to eat, he reasoned. They could make do with several families to a house; they could make do with the old car; their clothes could be mended, but they had to eat every day.
This led him to Iowa. He took the last dollar they had to their name and bought the old Randall Lumber yard in Des Moines. As they were stocking it, he noticed a great number of stock trucks bringing cattle and hogs to the stockyards. He reasoned that all those trucks meant dirt farm roads were being paved, and this was a whole new way for farmers to get their cattle and hogs to the stockyards.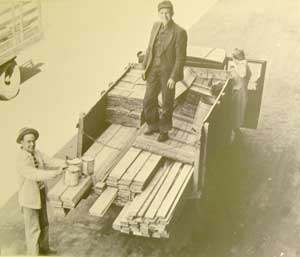 "Why not advertise to all those farmers? he thought, by sending each of them a specifically addressed piece of mail. In that mailer, or "circular as we called it, we showed the farmer we could give them the advantage of large volume, low prices, and as a bonus, they could haul lumber and building materials back to farms in those returning empty stock trucks. It worked! Father and Mother pulled another rabbit out of their hat.
In 1932, I was in my second year of college. I was home for summer vacation, expecting to go back in the fall, when Father announced:
"You are the oldest child. Our family finances are desperate, and we're trying a brand new, precarious idea. The whole family's future is depending on its success! You aren't going back to college but instead will work for the family business, because your help is now needed there more than any further education.
This was a shock. I was 19 years old, pretty well insulated from the realities of the times, and was enjoying school. But it was one of the luckiest things that ever happened. That plan allowed me to have nine years under my father's tutelage.
On July 1st, 1932, I reported for work at the lumberyard we were preparing to open in Des Moines. This started a pattern of life for me that went on for several years. I would work in a lumberyard spring, summer and fall, and then spend my winters getting farmer's names for the mailing list.
My father decided that our advertising circulars would get more attention if they were addressed with the farmer's name. The post offices had a rule prohibiting their employees from giving out these names. "So how are we to get them? I asked my father, and he said, "That's your problem. Just go and figure out a way."
We drove to every town that had a post office in Iowa's 80 counties, and, once we got there, figured out how to get those names. Sometimes we could buy them for a penny per name from the mail carrier or his assistant. Sometimes we could get them from a retired mail carrier. Each town was different and a new problem. Even though I was only 19 years old, I learned not to accept defeat and we never failed. The Des Moines yard opened, the circulars went out, and gradually the business came in.
This caused a terrible commotion among all of our competitors in the little towns nearby. They had, for years, been serving customers isolated by a sea of mud roads. These competitors had reached tacit agreements with each other not to cut prices (which were illegal, but hard to prove) and we had upset their security.
Everything was on a cash basis and was picked up at the yard, avoiding the cost of delivery and the cost of uncollectible outstanding accounts, and also paving the way for the idea of "cash and carry". We bought direct from the manufacturers instead of from jobbers, and finally, we bought in large quantities. All of this lowered our costs, and we passed the savings on to our customers. It was new and it worked.
The depression was at its worst. Money was scarce and everybody had to make their dollars go far. They saw our prices and came to our business. Roosevelt was elected and immediately passed the NIRA (National Industrial Recovery Act) stating the government would set a price on everything and nobody could sell under that price. Our competitors loved it, but it could have ruined us. We fought back and sued in the courts. Others did likewise, and the courts decided the NIRA was unconstitutional. We were free to go on as we had before, but it took almost a year of blood, sweat and tears to win through.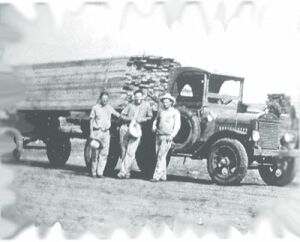 We opened another yard in Omaha, and moved the Oklahoma City oil field yard near the south of town closer to downtown. We built the Kansas City yard in 1936 and business followed. We were well on our way.
In 1941 two staggering things happened. On November 22, 1941 my father died suddenly of a heart attack. Two weeks later the Japanese bombed Pearl Harbor. The next four years was war.
As the new CEO, I was not without hardship. Our merchandise became very hard to obtain, because it was all going to the war effort. Our organization was gradually decimated as man after man went to war. It was a time of strife.
If we hadn't had such a wonderful organization of people, we would never have made it. Their loyalty and integrity gave me a chance to successfully perform my job and extend our company's legacy. I will always hold for that group of men, my undying gratitude.
Luckily, the Pratt Whitney Engine Co. built a tremendous plant south of Kansas City. I went back to Hartford to work with their head office and got the contract to build all of the shipping crates for their engines as they were finished. This gave us a war-related activity and helped get us by. Afterwards, my brother, Bob, joined the Company while my two younger brothers went into the Navy and the Merchant Marines. I went to be examined for the draft three times, but each time was rejected because of stomach ulcers.
In 1945, at the war's end, we started rebuilding the East St. Louis yard, which had been abandoned earlier because of the war. Soon we were off and running! We built yards as fast as we could find money for them. The wonderful people that had gone to war came back, and fortunately, we only lost a couple men in the service. We were always looking for towns where we thought the lumberyard would work, and soon found the stockyards in Sioux Falls and Ottumwa, repeating what we had done for the farmer in Des Moines.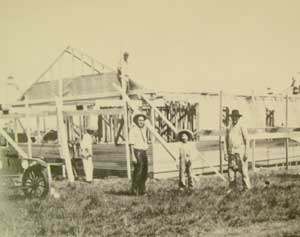 Next, we opened a yard in Indianapolis, Indiana. The new war in Korea made it hard to buy lumber. Our yards were a new idea, incorporating our office as well as where we stored our lumber. We also began keeping tools and hardware stocked so that the customer could pick and choose what they needed as they needed it. This area grew as we added to our lines of products, and by 1960 it was a full hardware store. This was very different from what anyone else was doing.
As our line of materials grew, so did the stores. When we opened Ft. Wayne, Indiana and Columbus, Ohio, a larger office building was a part of the plans. What had originally been just tools and hardware now included paint, electrical, plumbing supplies, and more. By 1960, there were 13 stores and more planned.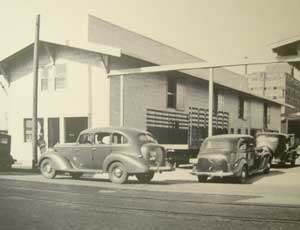 The next generation was getting older. We decided to divide the yards up between the five families that constituted my generation of four boys and one girl. We thought it best when the cousins came into the business that they have as much as possible their own affairs to run, creating a strong sense of familial ownership. Each could do what he thought best, and if it was right, the rest could copy him, or if it was wrong, the rest knew not to do it.
We have a great organization with an even greater group of people taking care of it. Every individual in the Company has contributed immensely supporting our wonderful business. There have always been giants walking down the road and trying to do us in. The great new warehouse stores have brought out a new model, a new system that seems to work. We have met this new giant, as we always have, with flexibility, a determination to change and learn, and with an organization that cannot be duplicated anywhere. We've continually had our normal share of serious problems; floods, fires, tornadoes, wars, attacks by organized labor, adverse legislation, and always not enough money to do what should be done, but every successful business experiences these at some point in time. But we will always persevere.
I guess you shouldn't call a vital, thriving, competitive business fun, but it sure keeps your attention. I like it.
Herman Sutherland
1913 - 2006