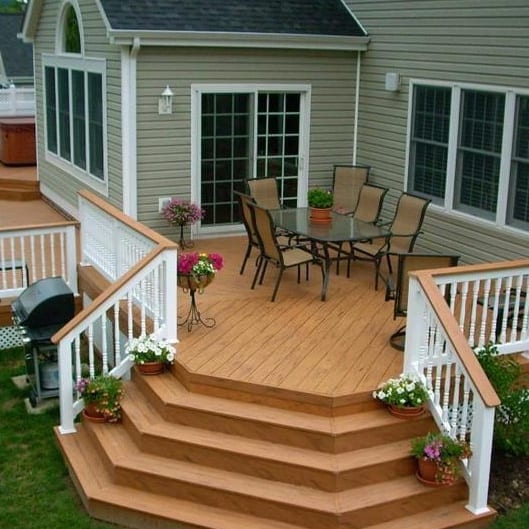 Attached Deck Packages usually require one set of steps, and railing on three sides. Our Deck Packages include all bolts and fasteners. Quality treated lumber or redwood (in Western markets) is figured in our Deck Packages. We will custom quote you based on your needs.
Composite Deck Materials: Ask us what brands are available in your area.
Complete Deck Packages
Create a backyard retreat that increases the value of your home!
Our Basic Deck Packages include everything you need:
Beams
Joists
Decking
Fascia
Posts
Fasteners
Other Deck Accessories Available at Sutherlands: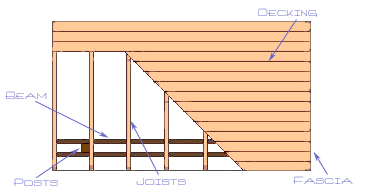 Attached Decks are supported on one side by using a ledger attached to house or other structure.
Freestanding Decks have materials to support all sides without attaching to any other structure.
We can estimate any size deck for you!
Let us estimate a custom deck that suits your individual needs. Just tell us your measurements as well as any special needs or preferences.

All options and specifications are subject to change and may vary from store to store. It is the customer's responsibility to check local codes before starting a building project. Additional material may need to be purchased to comply with local codes. The actual list of materials and products provided with our packages can vary by store, and may be different than displayed on this website or video. Please consult your salesperson for an actual list of the products included with packages sold in your area. If paint is supplied with this package, it is not applied. Many lumber and building materials included with our packages are commodity items where prices can and do change daily. Any pricing displayed on this web site is subject to change at any time without notice. Pricing and description errors are subject to correction.