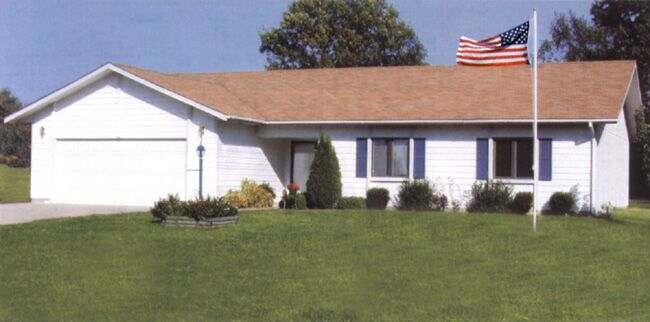 Some of the outstanding features of this home package include three large bedrooms with closets, two super-sized baths, whirlpool tub, garage (equipped with garage door opener), family room with optional fireplace, dining room and spacious kitchen. (WESTERN STATES PLAN)
At a Glance:
Structural and Technical Features:
2-car attached garageTreated bottom plate
Wood I-beam floor joists and T&G OSB floor construction
7/16" OSB roof sheathing
7/16" OSB Wall sheathing
Quality framing lumber
Pre-built and engineered roof truss system
R-13 wall and R-38 ceiling insulation
Electrical:
125 amp Service (200 amp is optional)
Upgraded lighting package
Phone and Cable jacks
Smoke detectors in all hall and bedrooms
Plumbing & Appliances:
One-piece tub/shower units
40 gallon water heater
1/2 hp Garbage disposal
Water Saver toilets
Exterior:
Lap style vinyl siding
20-year fiberglass shingles
Insulated vinyl windows
Vinyl shutters
Steel entry and side door
Sliding or swinging patio door
Steel overhead garage doors and opener
Interior Finish:
All doors, brass hardware (may be optional)
Picture frame oak kitchen cabinets
All moulding and trim
Laminate countertops
15-year Sutherlands Golden Glow paint
Wall-to-wall carpet and vinyl flooring
The base pricing and actual material list for this home package varies by store. Please
contact your nearest store
for more complete details and current pricing.
---
Our packages do not include heating or air conditioning units, concrete or construction costs.
Floor Plan: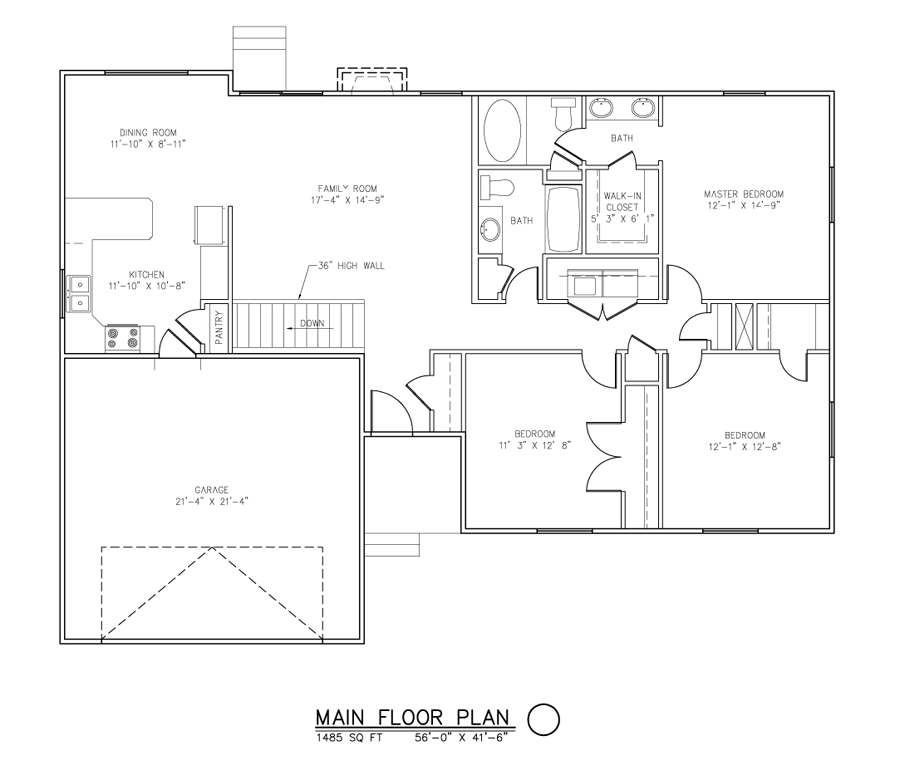 Home packages displayed on this Site are suggested designs and material lists only. All packages are available exclusively at Sutherlands® store locations. Square footage is approximate. We do not guarantee the completeness or prices of these homes. Home packages are not sold for a fixed price. We cannot guarantee our material list will meet your code requirements. Land, labor, foundation, concrete, steel beams, and heating and cooling systems are not included and must be purchased elsewhere. Delivery charges are extra. All options and specifications are subject to change and may vary from store to store. It is the customer's responsibility to check local codes before starting a building project. Additional material may need to be purchased to comply with local codes. The actual list of materials and products provided with our packages can vary by store, and may be different than displayed on this website or video. Please consult your salesperson for an actual list of the products included with packages sold in your area. If paint is supplied with this package, it is not applied. Many lumber and building materials included with our packages are commodity items where prices can and do change daily. Any pricing displayed on this web site is subject to change at any time without notice. Pricing and description errors are subject to correction.