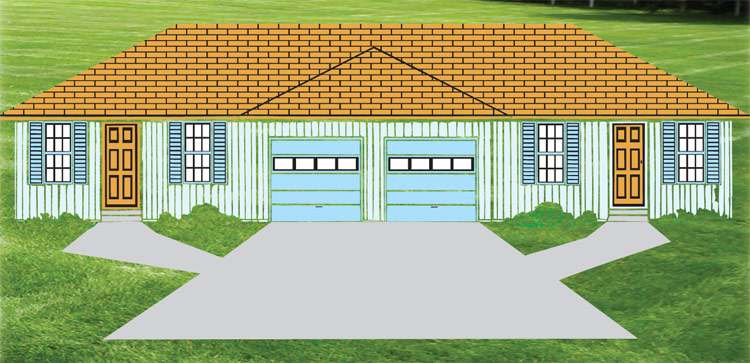 The Twin Comfort Duplex
A Complete Home Package*
Live in luxurious surroundings on one side and rent the twin side. Your rental receipts could make your Twin Comfort Duplex pay for itself!
At a Glance:
The base pricing and actual material list for this home package varies by store. Please
contact your nearest store
for more complete details and current pricing.
---
*Our packages do not include heating or air conditioning units, concrete or construction costs.
Structural and Technical Features:
Framing lumber
2x4 pre-cut studs
Roof trusses
4x8-7/16" OSB roof sheathing
4x8-1/2" foil-face foam sheathing

Electrical:
200 AMP Breaker Box
Breakers
Electric Wire
Smoke Alarms
Light Fixtures
Plumbing & Appliances:
Fiberglass tubs and showers
Stainless Steel Sinks
Garbage Disposers
Washerless Faucets
40 Gal. Electric Water Heaters
Mirrored Bath Cabinets

Vanities With Tops
White Toilets
Plastic Pipe & Fittings

Exterior:
Roof shingles
4x8 Smart Panel siding
Vinyl windows with insulated glass
Pre-hung steel entry doors
9ft. x 7ft. Steel Insulated Garage Doors
White Painted Rain Gutters

Interior Finish:
Plasterboard
R-13 Wall Insulation
R-25 Ceiling Insulation
Pre-hung Interior Doors
Kitchen Cabinets & Countertops
Electric Ranges / Range Hoods
Pre-finished Moulding
Paint - Carpet

Home packages displayed on this Site are suggested designs and material lists only. All packages are available exclusively at Sutherlands® store locations. Square footage is approximate. We do not guarantee the completeness or prices of these homes. Home packages are not sold for a fixed price. We cannot guarantee our material list will meet your code requirements. Land, labor, foundation, concrete, steel beams, and heating and cooling systems are not included and must be purchased elsewhere. Delivery charges are extra. All options and specifications are subject to change and may vary from store to store. It is the customer's responsibility to check local codes before starting a building project. Additional material may need to be purchased to comply with local codes. The actual list of materials and products provided with our packages can vary by store, and may be different than displayed on this website or video. Please consult your salesperson for an actual list of the products included with packages sold in your area. If paint is supplied with this package, it is not applied. Many lumber and building materials included with our packages are commodity items where prices can and do change daily. Any pricing displayed on this web site is subject to change at any time without notice. Pricing and description errors are subject to correction.