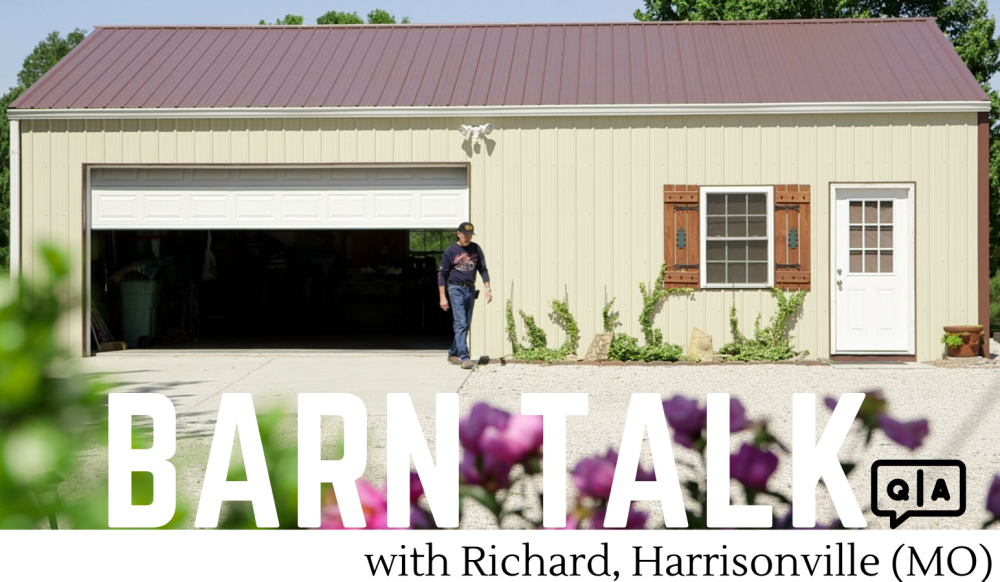 Meet Richard Bindel, one of our building experts from our Sutherlands store in Harrisonville, Missouri.

We dove into a casual Q&A and got some good insight on what you need to know about getting a barn built from Sutherlands.
Q: How long have you built barns?

A: Oh about 12 years now from when I started working at Sutherlands back in Raytown.

Q: How many barns and let's say the smallest to the biggest?

A: Oh I got boxes of plans over there, maybe 500. 20'x20' was the smallest and 60'x80' probably the biggest. 40' is the most common size.

Q: What 's the main reason customers want a barn?

A: They look for storage, mostly for RVs, tractors, farm equipment and an occasional barn with stalls for animals.

Q: Do you only work with Sutherlands plans? What if a customer comes in with a picture, what do you do?

A: We can definitely sit and work the layout with customers. We use computer design software and we are able to customize. But we have lots of plans and sizes most customers want. They will come in with our brochure and say "I want this!".
Q: What about a "barndominium"?
A: Well we've gotten a lot of interest, but currently we don't have an exact plan for them (rumor has it they are coming!).
Q: How fast do you work up a building plan?
A: We can pretty much sit down and get it all done and ready for a quote. But it is better to jot down what you want and we will get back with you in a just a few days.
Q: Can you go over the process from A to Z?
A: We will start with sitting down and go over what kind of barn you are looking for: the opening, wainscoting, cupolo, overhang, lean-to or porch. Most customers know the size and where they want their building. Then we draw up a plan so you can get a permit. Once we agree upon the quote, we will start getting all the materials ordered and coordinate with builders along the process.

Q: Who builds it?
A: A lot of customers already have a builder they want to use but we can recommend trusted builders that we have been working with.

Q: What are some of the things to keep in mind?
A: Building Codes are very crucial. You need to check with your county, but we pretty much know what the requirements are around our area. I had a customer come in wanting a giant barn and I had to tell him that would not work. He said it's my land, I should be able to build whatever I want. Well not necessarily. For Cass county, if you have less than 40 acres, you have certain size and height regulations. Before building, you need to make sure the ground is leveled filled properly.
Q: How long does it take for an average project?
A: Probaby 6-8 weeks once we break ground. We need to work around the trusses being built and ready to install.
Q: What kind of problems have you run into?
A: There was this one site that had too much fill. We just couldn't get to the bottom to set the post. We had to drill a bigger hole for that. Things go smoothly for the most part.

Q: What kind of custom features have you done in the past?
A: A customer might ask for color match, adding a porch, a cupolo. The special sizing garage doors, overhead doors for an RV and special sized windows (with grids) might delay things a bit. We are at the mercy of the manufacturers.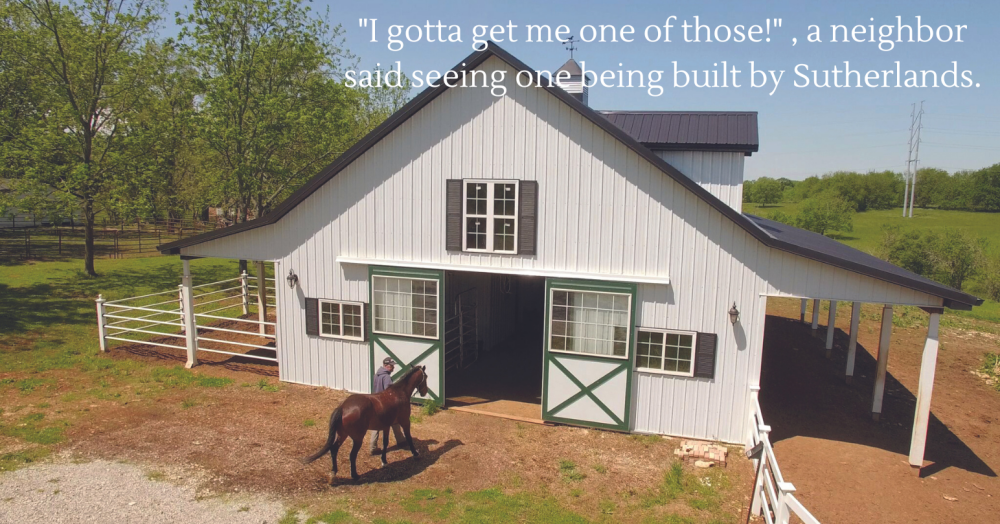 Q: What kind of feed back do you hear from customers?
A: So far no unhappy customers that I have heard of (Richard chuckled). They praise the craftmanship. I got a lot of their neighbors coming back after seeing one built to get the same, " I gotta get me one of those!". I probably built 3-4 barns, one after the other.

Q: Why would customers choose Sutherlands over competitors?
A: EXPERIENCE, we are LOCAL and we know the process. I have been told more than once by builders about another company that uses outside sources for their materials from far away. The problem they ran into is missing parts, or bad lumber. It's not like you can go exchange them and replace it for free. You have to pay again and you can't throw away anything damaged because you are gonna need every piece out of that truck to finish. That sets us apart if you buy it from us. We are local and we can deal with any issue builders might have in a timely manner and it shouldn't cost more than you were quoted.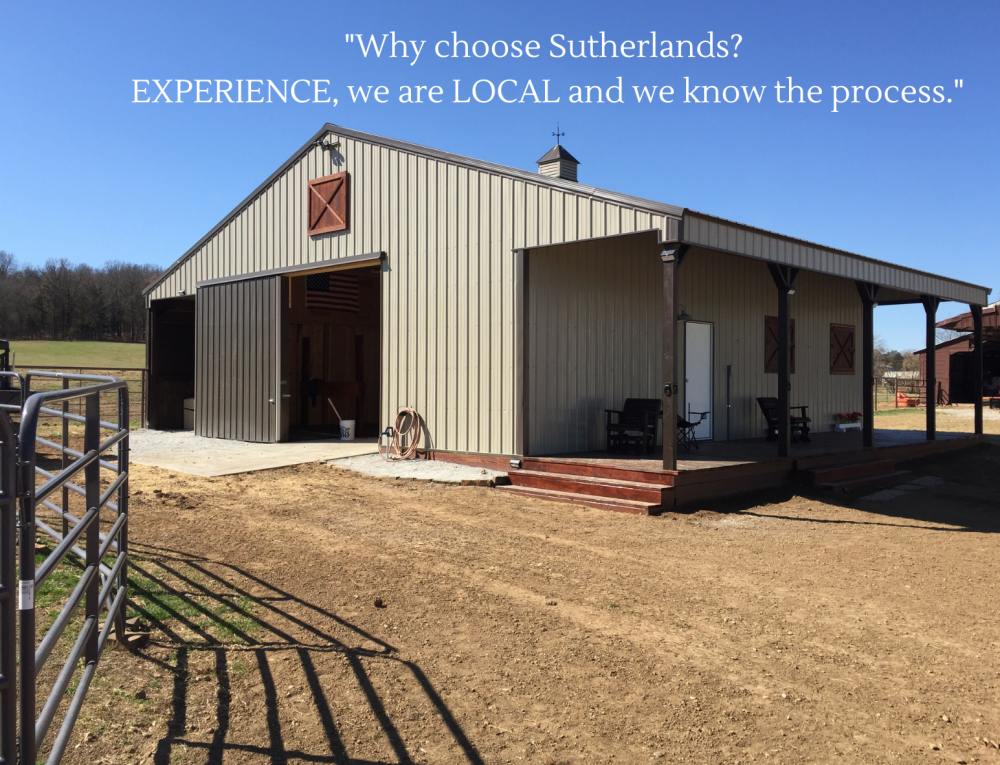 Q: What do you want customers to know?

A: I recommend them giving us a call to make an appointment. If you don't live around the store, be sure to check building restrictions in your area so we can plan your building accurately.