Sutherlands had the pleasure of hosting a meet and greet with PITMASTER John Lindsey at Sutherlands Olathe location featuring Papa's Premium Grilling Pellets. John certainly earned his own rights as a 7-time World Grand Champion Steak Qualifier and Many time BBQ & Grilling Champion.
John is full of passion and knowledge in his craft. He has the most joyful and honest personality; no doubt he has been seen in many tv shows and talk shows. And boy he sure can grill a good look'n piece of steak! Today we want to share John's techiques and useful tips in grilling that perfect ribeye steak.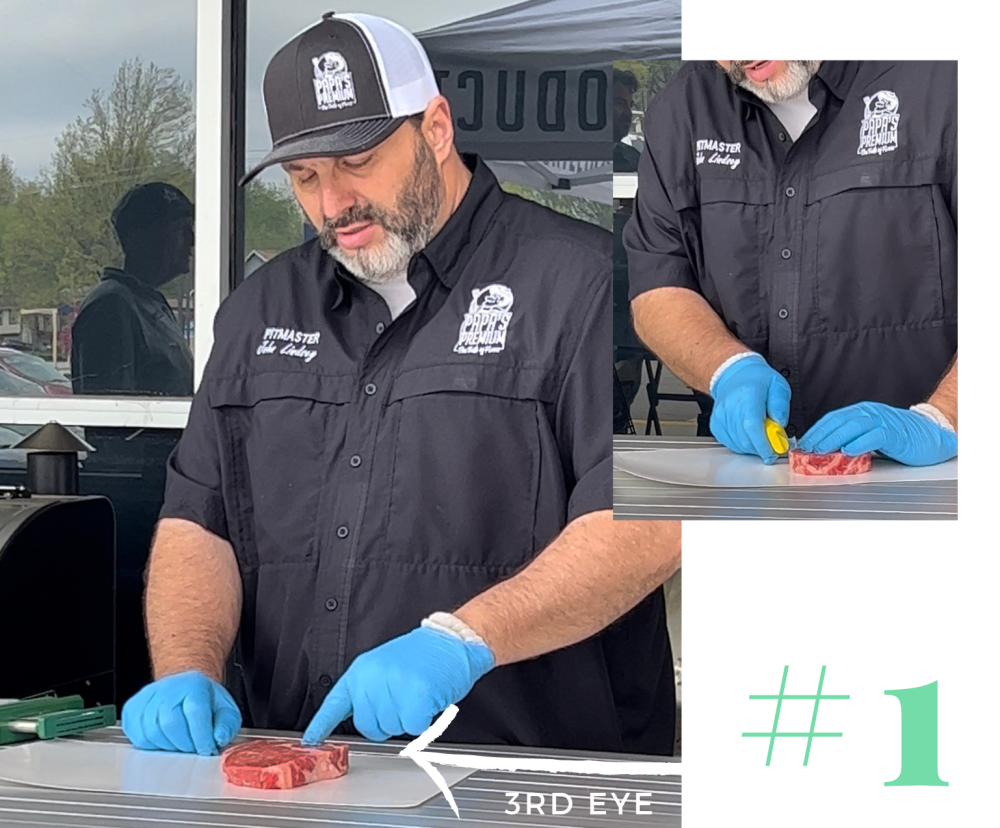 When choosing a steak (ribeye loin in this case), John always buys Choice graded steaks and looks for that 3rd eye (muscles). You would also want to trim off the silver skin on the outside but leave the fat (that is how John prefers his!).
But, per John, in competition, you can't leave fat in. He said "in competition, you don't cook to please JOHN, you cook to please the JUDGES".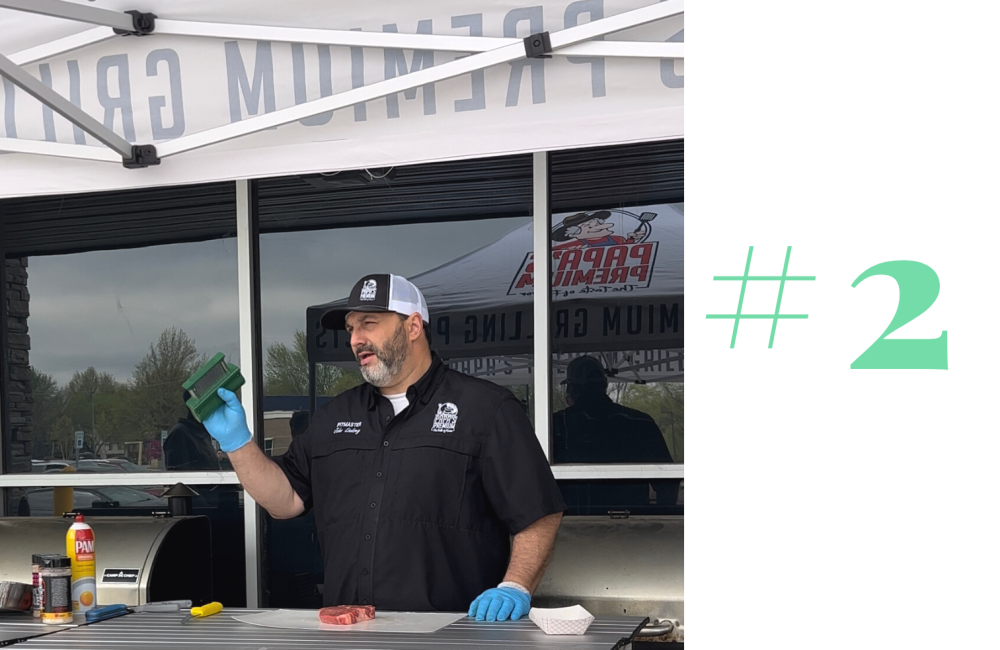 You need to tenderize the meat. Always go against the grain. You can use the tenderizer tool or use a hair pin...yes hair pin. Just tap them all over on the sides. Make sure to reshape the steak.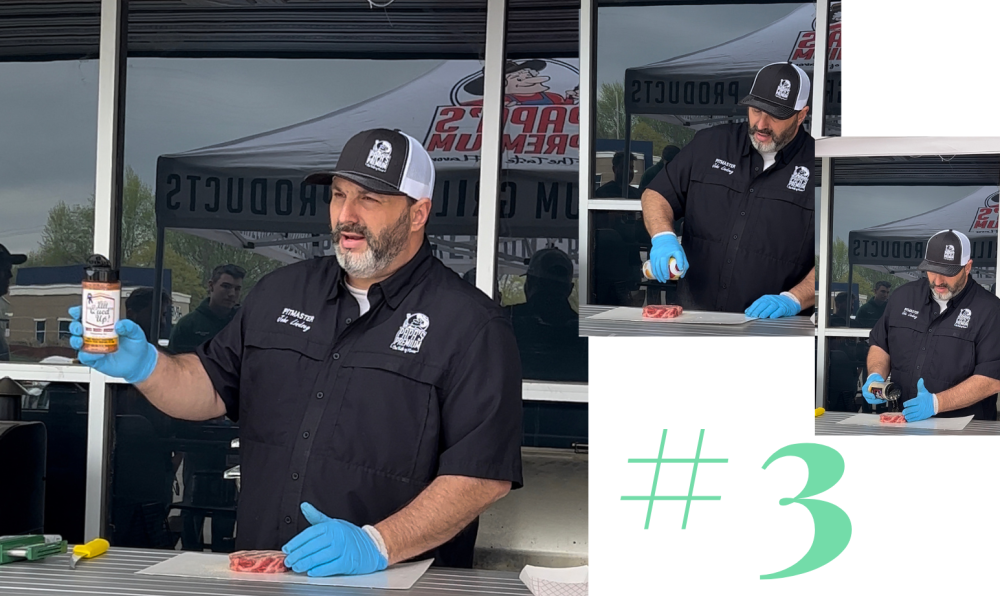 There is no ONE all-purpose rub in Jonh's recipe book. You should layer your rubs!. If you want subtle savoring flavors, you need to layer your seasonings. In his mouth watering demo, John used 3 of his signature blends he has perfected: Steak Shake, Big Red Beef and finished with Holy Moley that gives it smoky flavors. We know, first thing you thought, bet that was salty! That's the thing, good rub will have less salt, this allows you to do layering. He uses oil spray first and then begins layering.


You always want to bring your steak to room temperature, ideally 80-85 degrees. Let the seasoned steak rest for about 10-15 mins before cooking.

John's must have is the infared thermometer. You could go by the "feel" of the steak, but John puts his trust in the exact temperature.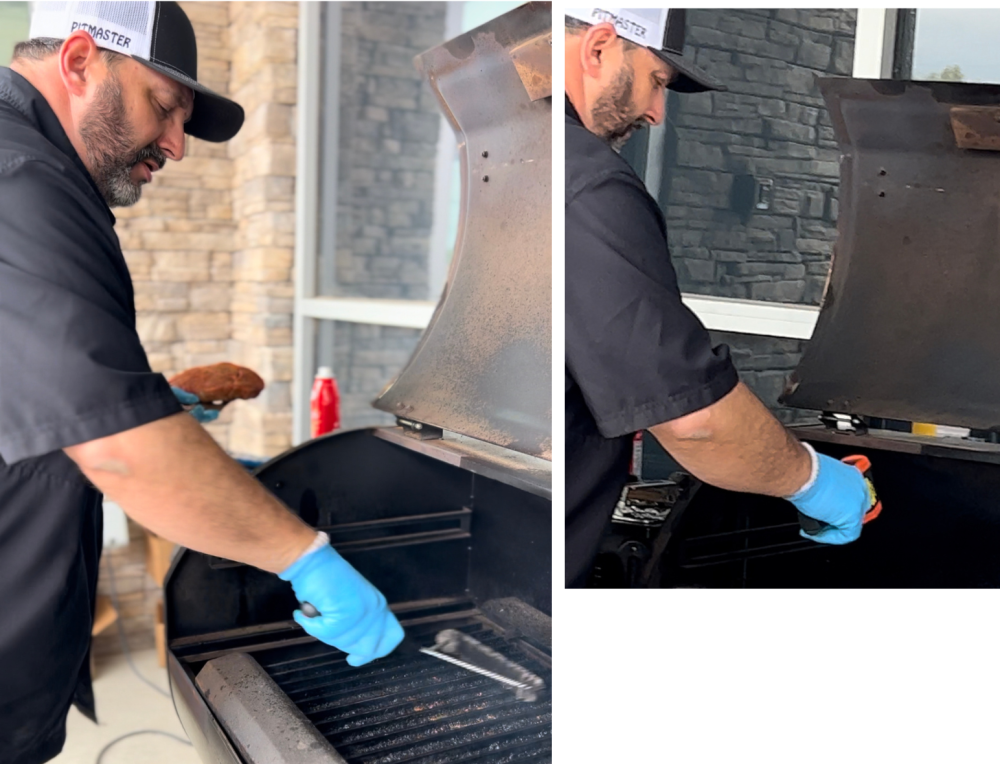 Let's fire up the grill! John is using a Camp Chef Pellet grill. His favorite wood flavoring pellets from Papa's Premium is Charcoal Hickory. Clean the grates and use instant temp check. You want the grill at around 600 degrees.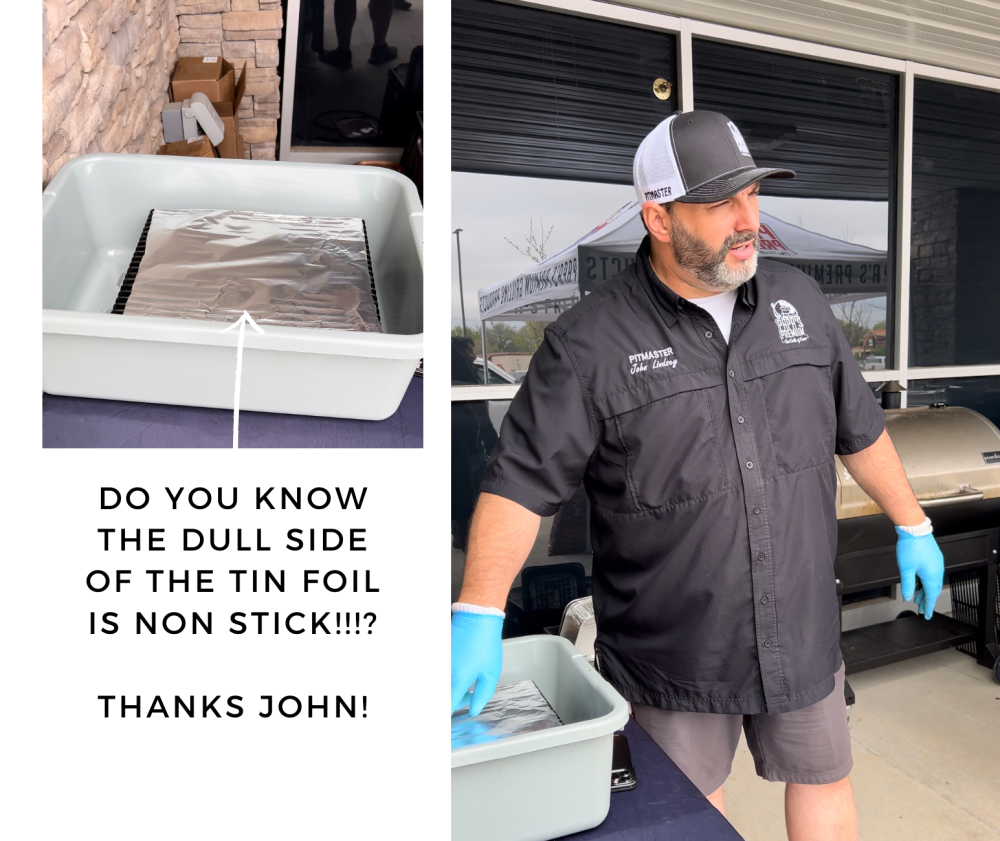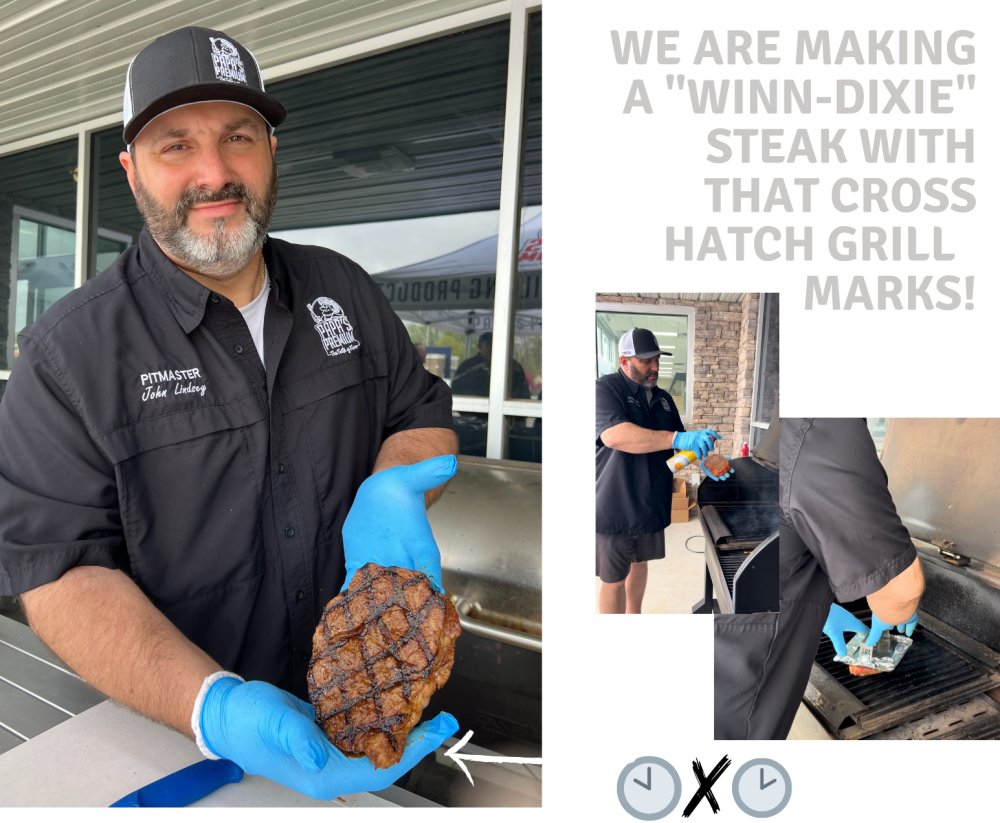 Once you get the right temp, spray the seasoned steak with oil again, place the steak on the grill. He recommends using the steak weight. Hold it firmly to make sure you get that sear. Set the timer for 1.10 min. Rule of thumb to make the cross hatch grill
| | |
| --- | --- |
| | After 1.10 mins at 10 o'clock, clean the grate, spray and turn the steak to 2 o'clock. John prefers to cook one side at a time. Be sure to clean and spray the grate in between. |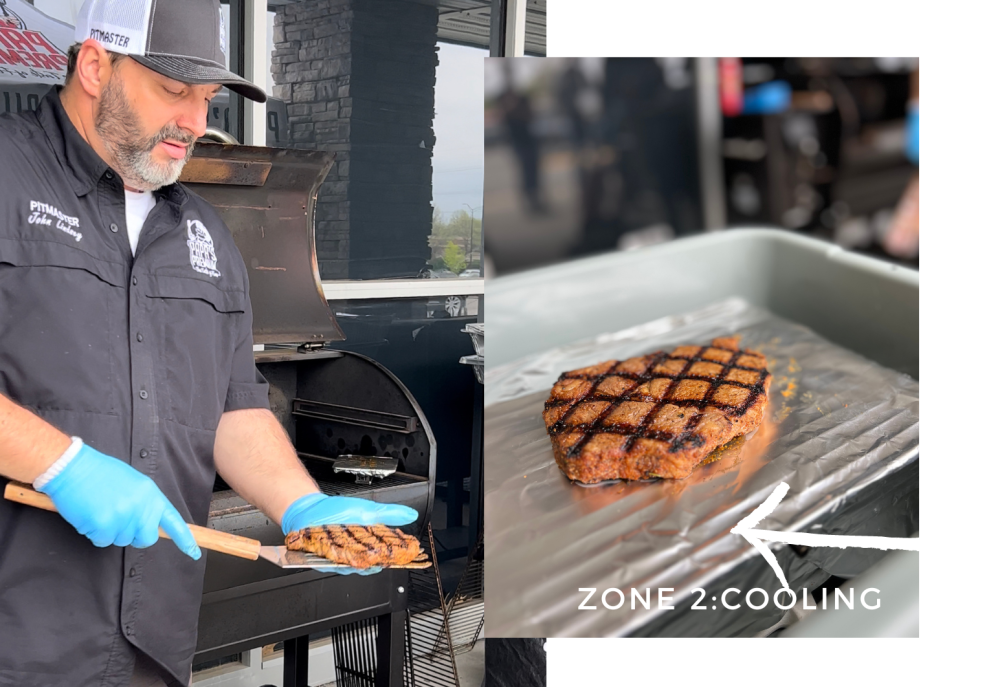 Move the steak to zone 2 on the grill grate for a few mintures. Grill grate is also a must have for any grillmaster. He has over 15 grates for different grills he owns. The grate will help with flare up when putting the steak back into the fire.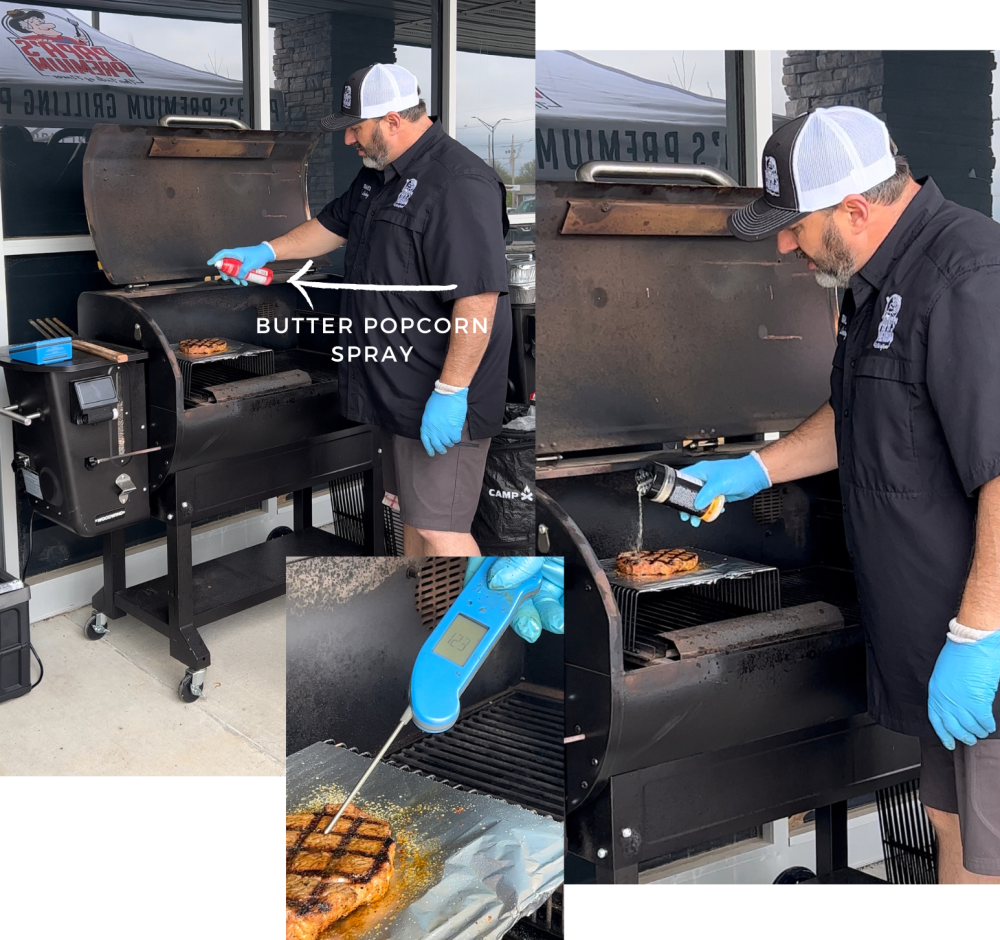 Return the meat on the grate to the grill and start lightly reseasoning all 3 rubs. Here comes the trick! Use butter popcorn spray before seasoning! After reseasoning, close the lid and cook till the meat temperature reaches about 125 degrees. You want to take about 3 temp readings around the steak.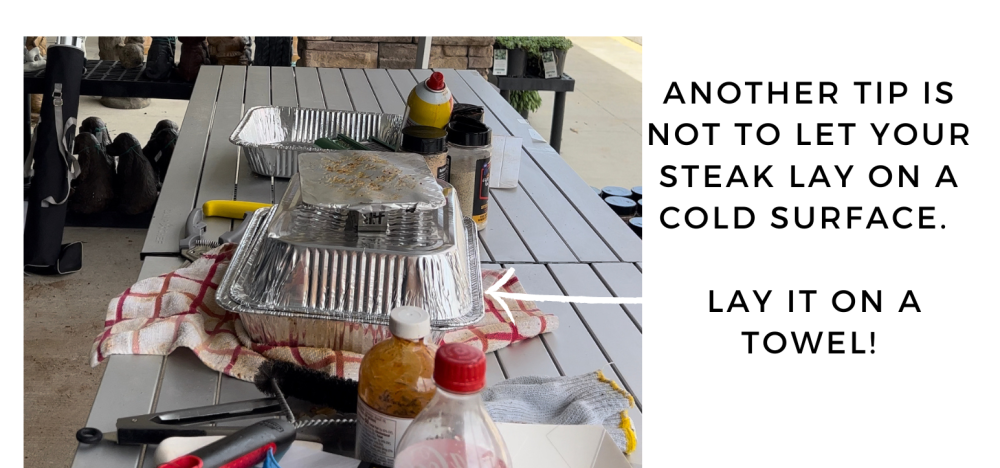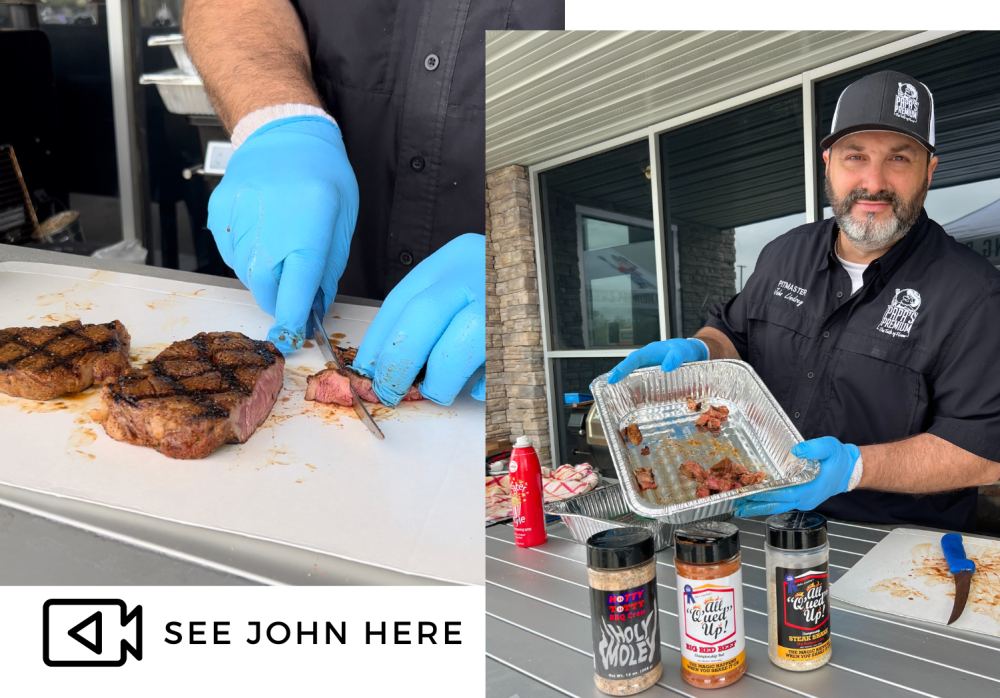 As John put it, "this is where the rubber hits the road". Look at how perfectly cooked that steak is for all the medium rare lovers. There you've got yourself a piece of heaven!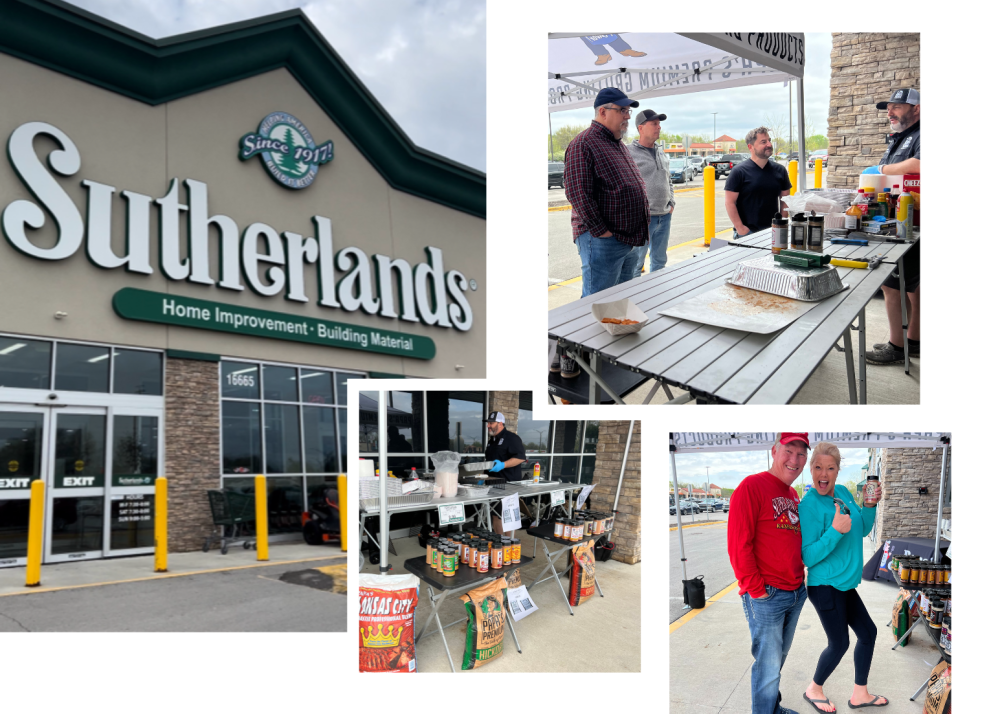 Our customers sure enjoyed learning and tasting during this event. Thanks John!