We all know areas of our home that need updating. For a lot of people, it can be right in the center of their living room. Renovating a fireplace can be a big undertaking. However, you can update your fireplace to match the rest of your home without construction! A complete update can be done with different coats of paint! Want to see how this family gave their living room a bright new fireplace without reaching for a sledgehammer? Read below!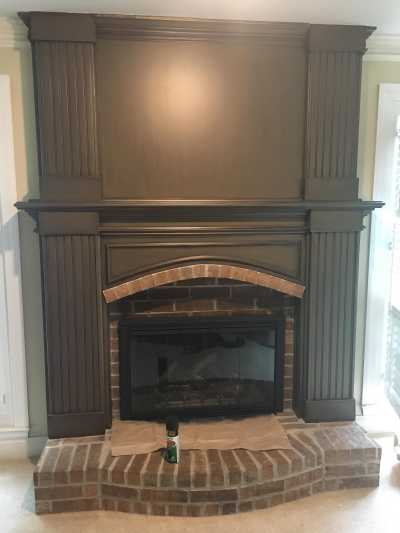 While this is a beautiful fireplace, it darkens the room significantly. There is a lot of brown, and the brass fireplace is outdated. This family wanted to add a cleaner, lighter look to center the room.
Of course the first step to any updating project is to thoroughly clean and prepare the surface you are painting. Starting with the brass, the surface was dusted and cleaned before being completely taped off. Taping off the glass and brick is important when using any sort of spray paint.
Now the fun part! Using one can of high-heat Rustoleum matte black spray paint, go over the brass completely. It is important to make sure any paint being used near the fireplace is high-heat, otherwise it won't last.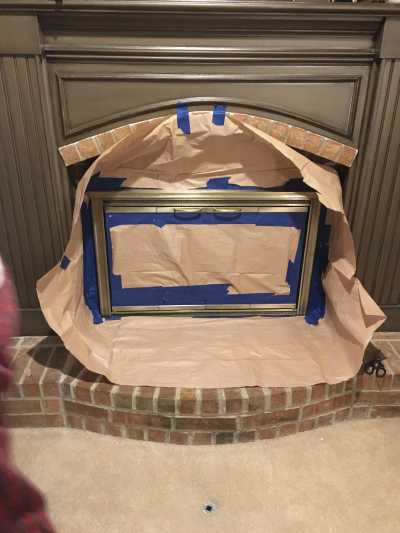 Already, this has made a huge difference in the look of the fireplace. With one simple coat of black spray paint the fireplace is already looking more chic and modern.
The next step is to prime the wood. Since the wood is a dark brown, it was primed with two coats of Kilz Primer. This is such an important step. Using a good primer ensures that you get full coverage from your paint, and makes the paint more long-lasting.
After priming, go ahead and apply coats of white paint to your desired coverage. Using a Valspar full coverage paint helps the process go along quickly! Once the wood was painted, the room already felt world brighter. The dark wood really dampered the room and detracted from the beautiful natural light coming in through the windows.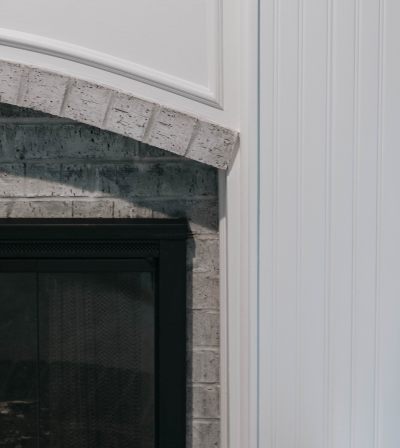 The final step to this project is to whitewash the brick! This helps take away the red and brown tones in order to brighten up the area surrounding the fireplace. It is important to really scrub the brick will before painting. Tiny particles of dust can affect how the whitewash looks. Use a heavy brush and water and dish soap to clean off the brick. Then cut white paint with water, this family did half water and half paint, then start to apply the mixture. Apply the mixture in thin layers, in a circular motion until you achieve the desired coverage.
Once you are all done, marvel at your work and the difference it makes to your living room!