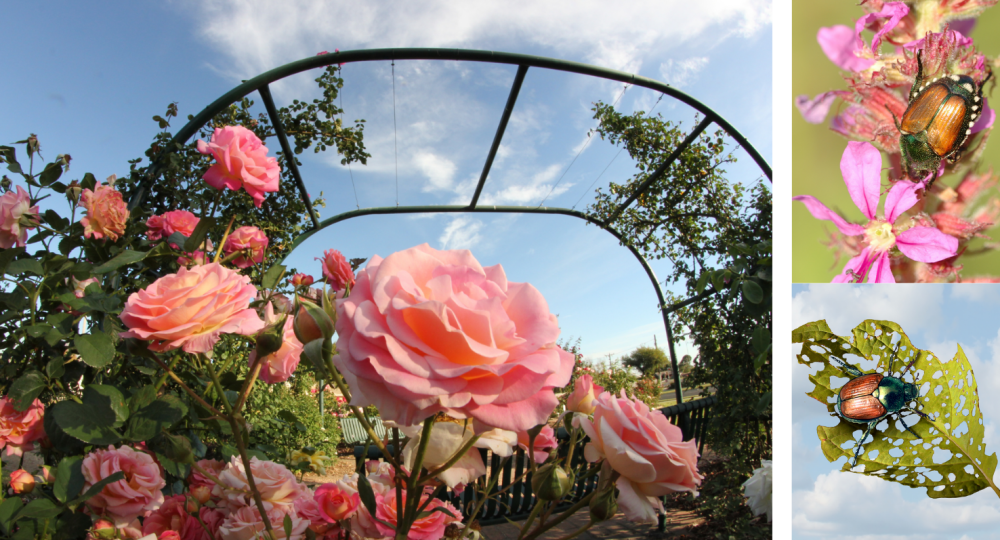 It's blooming season. You have been anxiously waiting for your garden to burst in bloom with colors this summer. Then you walk around your garden and all you see are leaf after leaf, bush after bush eaten all over. Your beautiful flowers are covered by their nemisis JAPANESE BEETLES feasting on your hard work.

Guess where the Japanese beetles are originated from? If the name is not a giveaway, yep it was from Japan. It was first spotted in the US back in 1916. They are found to be a very invasive species. Beetles feast on more than 400 plant species, feeding singly or in large groups between leaf veins and classically skeletonizing the foliage. They also feed on flowers and fruit. Favorite plants include roses, crabapples, pin oak, hibiscus, grapes, raspberries, linden, crape myrtle, sassafras, Japanese maple and Norway maple. (source: Bioadvanced)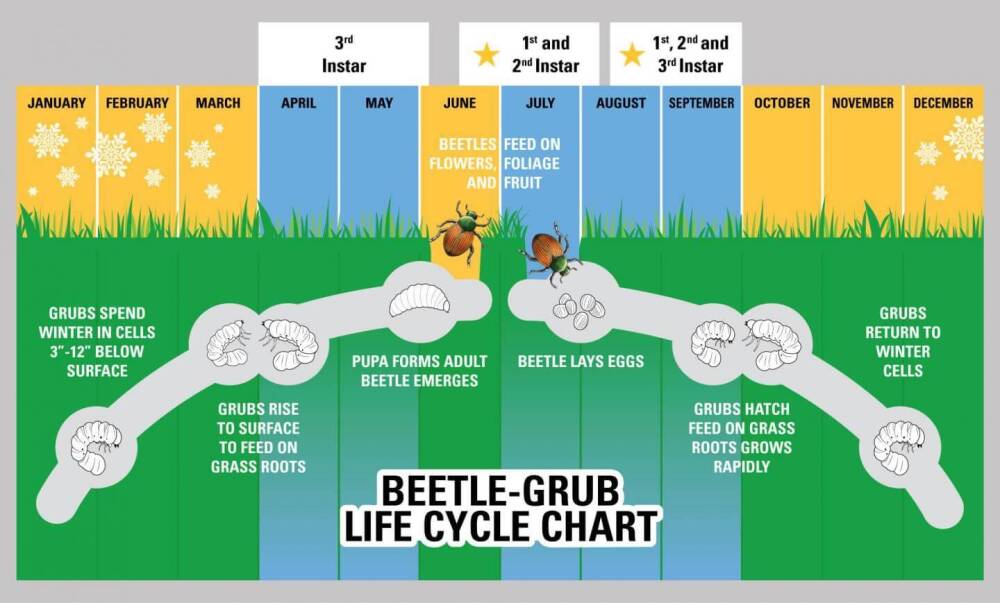 source: Scotts
As you see in this chart, beetles are the grubs hiding underground at first. They are all around destructive from bottom (eating your grass from the root) to top (eating your mature plants). This is a good reason to take care of your lawn early in the season with the right product. (shop grub control and killers)
That is not to say that this will prevent it from attacking your beautiful garden. Once mature, they will fly to the next food source. So your beetles are not necessariy from your lawn.
The plus side of this though is it is not the end of your garden. Beetle damage is only superficial. It won't kill your plant. Your beautiful garden just doesn't look its best.

Early detection is a must before it's too late. You should start inspecting for damage and their first appearance in early June and July. There are a few ways to get rid of them.
ORGANIC: You can handpick or knock the beetles into a bucket of soapy water to kill them.

It can be a tidious job if you have a big garden.

TRAPPING: Sutherlands carries a few options of lure that help to trap them.

The important reminder is to read the instructions.

Most traps need to be placed far, far away and

downwind.

It uses floral scents proven to be a natural attractant, along with the beetle's natural sex attractant. They normally last for a whole season.

INSECTICIDE: This might be the preferable way to manage beetles in a bigger garden.

Sutherlands carries many brands and options that are not harmful

to other useful pollinators.
Stop by your local Sutherlands to get ahead of the game with a grub control solution and a variety of options to get rid of those pesky beetles in your garden. Our experts are ready to help bring your garden to life.